During the reconstruction of the restaurant a hotel*** was built in the historical premises with 45 rooms. (including hygienic facilities, SAT, TV, safe and telephone).
The history of the restaurant " U medvídků" dates back to 1466. In the past century the original brewery was converted into the first Prague cabaret and also into the one of the biggest beerhall in Prague.
The mini-brewery is biggest attraction for our guests. It makes the STRONGEST BEER in the world, XBEER-33, using historical technology.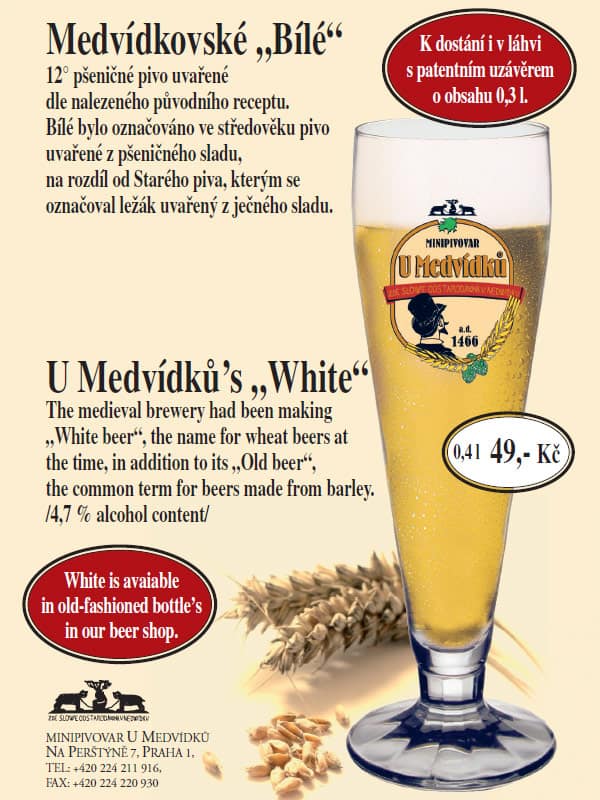 Medvídkovské "Bílé"
od 19. 7. 2019 – nabízíme točené i v lahvích
12° pšeničné pivo uvařené dle nalezeného původního receptu. Bílé bylo označováno ve středověku pivo uvařené z pšeničného sladu, na rozdíl od Starého piva, kterým se označoval ležák uvařený z ječného sladu.
K dostání i v láhvi s patentním uzávěrem o obsahu 0,3 l.
U Medvídků's "White"
from 19. 7. 2019 – we offer draft even in bottles
The medieval brewery had been making "White beer", the name for wheat beers at the time, in addition to its "Old beer", the common term for beers made from barley. /4,7 % alcohol content/
White is avaiable in old-fashioned bottle's in our beer shop.
---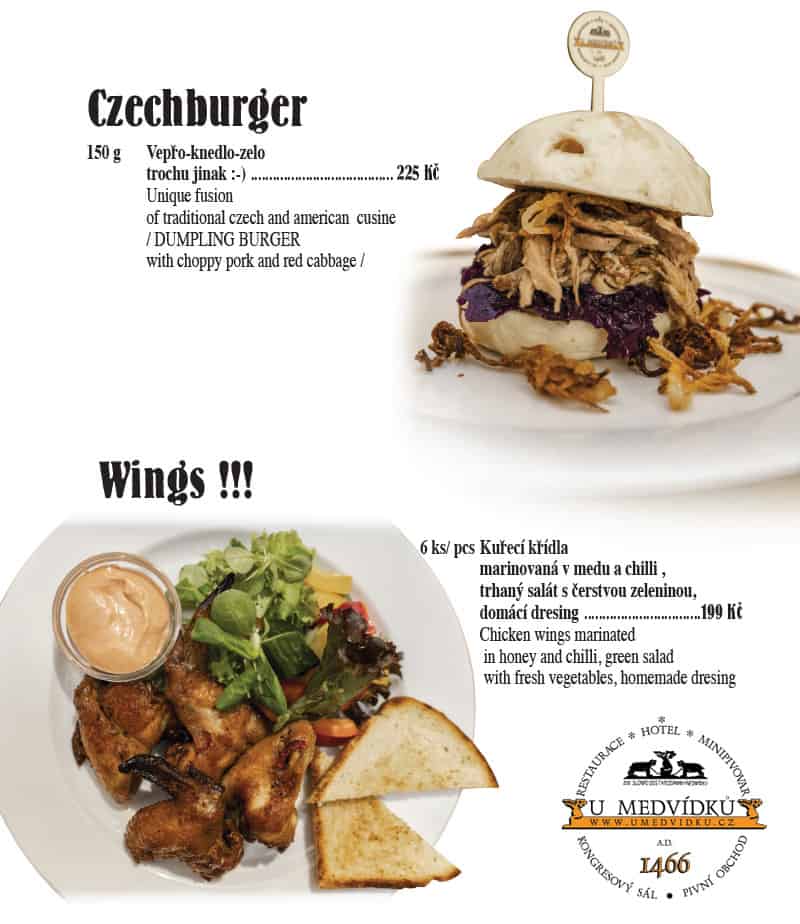 Speciální nabídka od 24. 6. 2019 | Special offer from 24. 6. 2019.
Czechburger
150 g Vepřo-knedlo-zelo trochu jinak 🙂 …………………………………. 225,- Kč
Unique fusion of traditional czech and american cusine / DUMPLING BURGER with choppy pork and red cabbage /
Wings !!!
6 ks/ pcs Kuřecí křídla marinovaná v medu a chilli, trhaný salát s čerstvou zeleninou, domácí dresing ……………………………199,- Kč
Chicken wings marinated in honey and chilli, green salad with fresh vegetables, homemade dresing
---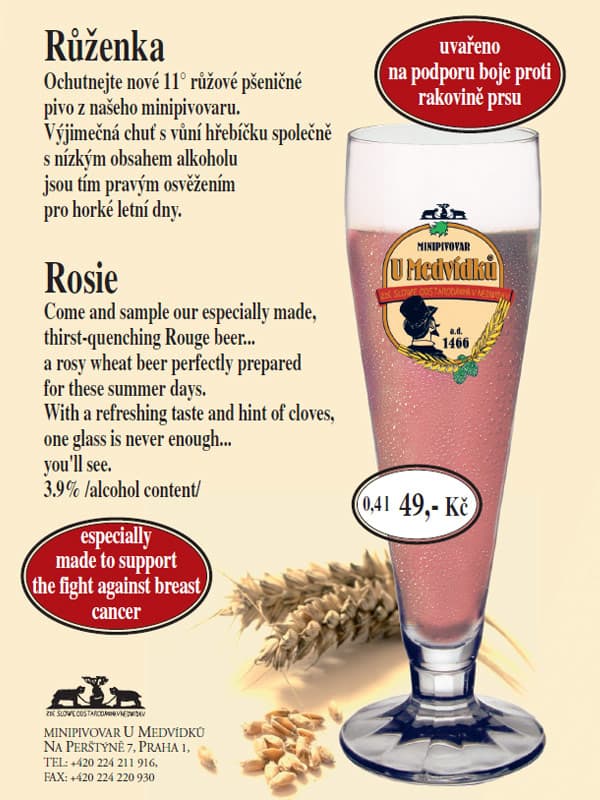 Růženka – od 14. 6. 2019 – nabízíme točené i v lahvích.

Uvařeno na podporu boje proti rakovině prsu!
Ochutnejte nové 11° růžové pšeničné pivo z našeho minipivovaru. Výjimečná chuť s vůní hřebíčku společně s nízkým obsahem alkoholu jsou tím pravým osvěžením pro horké letní dny.
Rosie beer – from 14. 6. 2019 – we offer draft even in bottles.

Especially made to support the fight against breast cancer!
Come and sample our especially made, thirst-quenching Rouge beer… a rosy wheat beer perfectly prepared for these summer days. With a refreshing taste and hint of cloves, one glass is never enough… you'll see.
3.9% /alcohol content/
---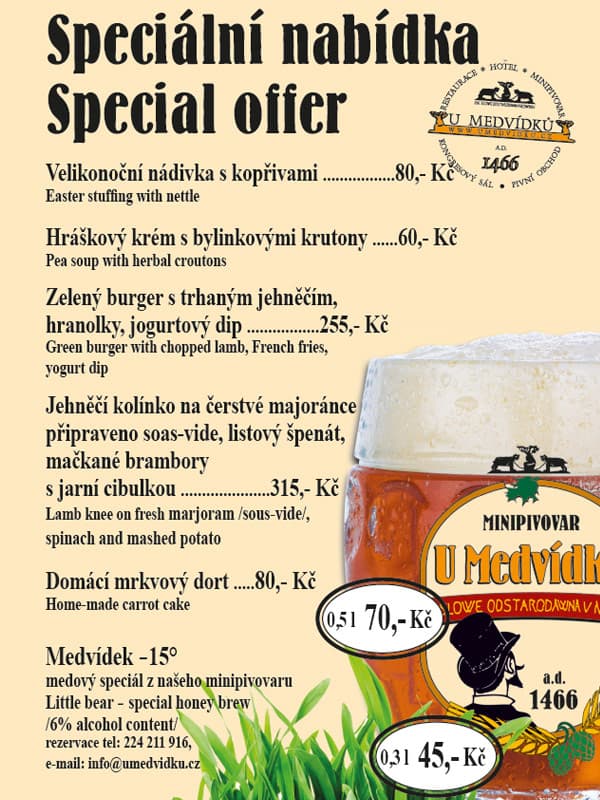 Speciální nabídka | Special offer

od 18.4.2019 | from 18.4.2019
Velikonoční nádivka s kopřivami ……………..80,- Kč
Easter stuffing with nettle
Hráškový krém s bylinkovými krutony ……60,- Kč
Pea soup with herbal croutons
Zelený burger s trhaným jehněčím, hranolky, jogurtový dip ……………..255,- Kč
Green burger with chopped lamb, French fries, yogurt dip
Jehněčí kolínko na čerstvé majoránce připraveno soas-vide, listový špenát, mačkané brambory s jarní cibulkou …………………315,- Kč
Lamb knee on fresh marjoram /sous-vide/, spinach and mashed potato
Domácí mrkvový dort …..80,- Kč
Home-made carrot cake
Medvídek –15° medový speciál z našeho minipivovaru
Little bear – special honey brew /6% alcohol content/
---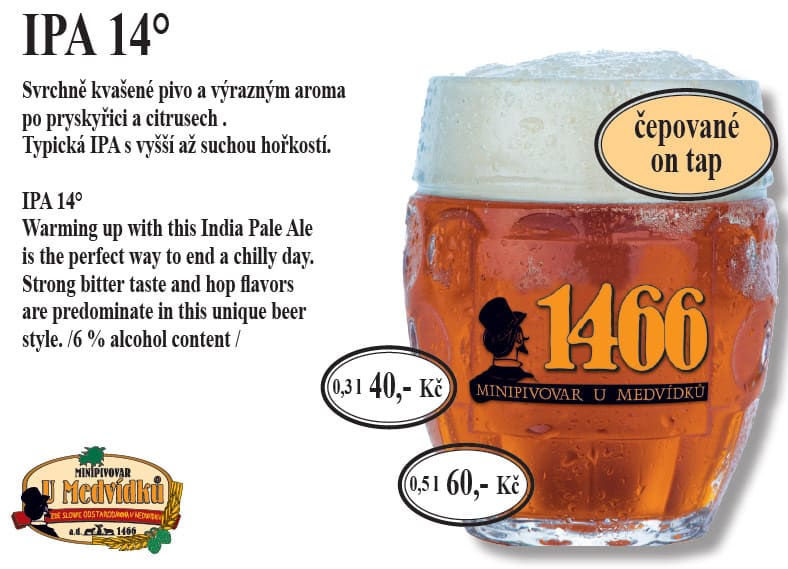 IPA 14° – od 22. března 2019 nabízíme na čepu a v našem pivovaru.
IPA 14° – Svrchně kvašené pivo a výrazným aroma po pryskyřici a citrusech .
Typická IPA s vyšší až suchou hořkostí.
IPA 14° – from March 22, 2019 we offer on the pin and in our brewery.

IPA 14° – Warming up with this India Pale Ale is the perfect way to end a chilly day. Strong bitter taste and hop flavors are predominate in this unique beer style. /6 % alcohol content /
---
Připravujeme pro vás:
KAŠTANOVÉ PIVO – SPECIÁLNÍ TMAVÝ 18° LEŽÁK
Zastavte se v předvánočním shonu a ochutnejte náš nový 18° polotmavý ležák, který jsme vyrobili tradiční českou technologií s přidáním kaštanové mouky.
We are ready for you:
CHESTNUTT BEER
Come and sample our wonderful 18° Semi-dark Christmas brew. This brew has been carefully made with Czech hops, Moravian malt and chesnut flour.
See you soon!
---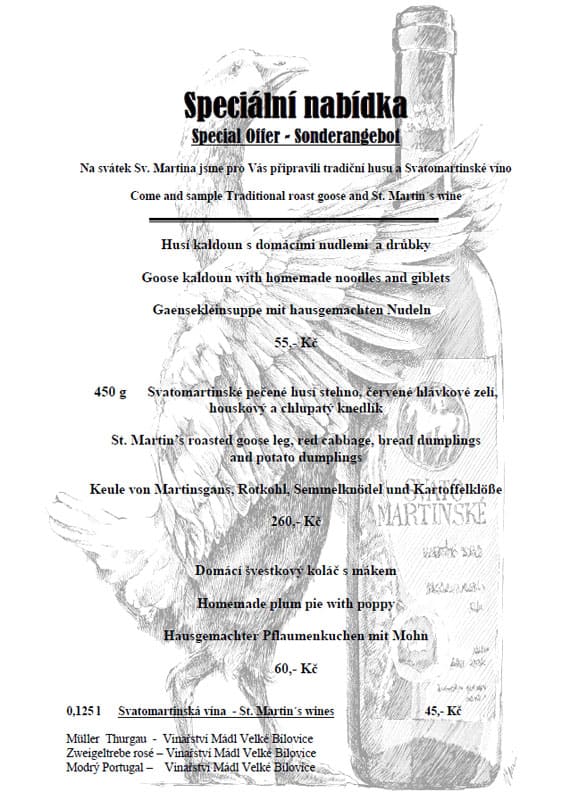 Na svátek Sv. Martina jsme pro Vás připravili tradiční husu a Svatomartinské víno
Come and sample Traditional roast goose and St. Martin´s wine
Husí kaldoun s domácími nudlemi a drůbky
Goose kaldoun with homemade noodles and giblets
Gaensekleinsuppe mit hausgemachten Nudeln
55,- Kč
450 g Svatomartinské pečené husí stehno, červené hlávkové zelí,
houskový a chlupatý knedlík
St. Martin's roasted goose leg, red cabbage, bread dumplings
and potato dumplings
Keule von Martinsgans, Rotkohl, Semmelknödel und Kartoffelklöße
260,- Kč
Domácí švestkový koláč s mákem
Homemade plum pie with poppy
Hausgemachter Pflaumenkuchen mit Mohn
60,- Kč
0,125 l Svatomartinská vína – St. Martin´s wines
Müller Thurgau – Vinařství Mádl Velké Bílovice
Zweigeltrebe rosé – Vinařství Mádl Velké Bílovice
Modrý Portugal – Vinařství Mádl Velké Bílovice
45,- Kč
---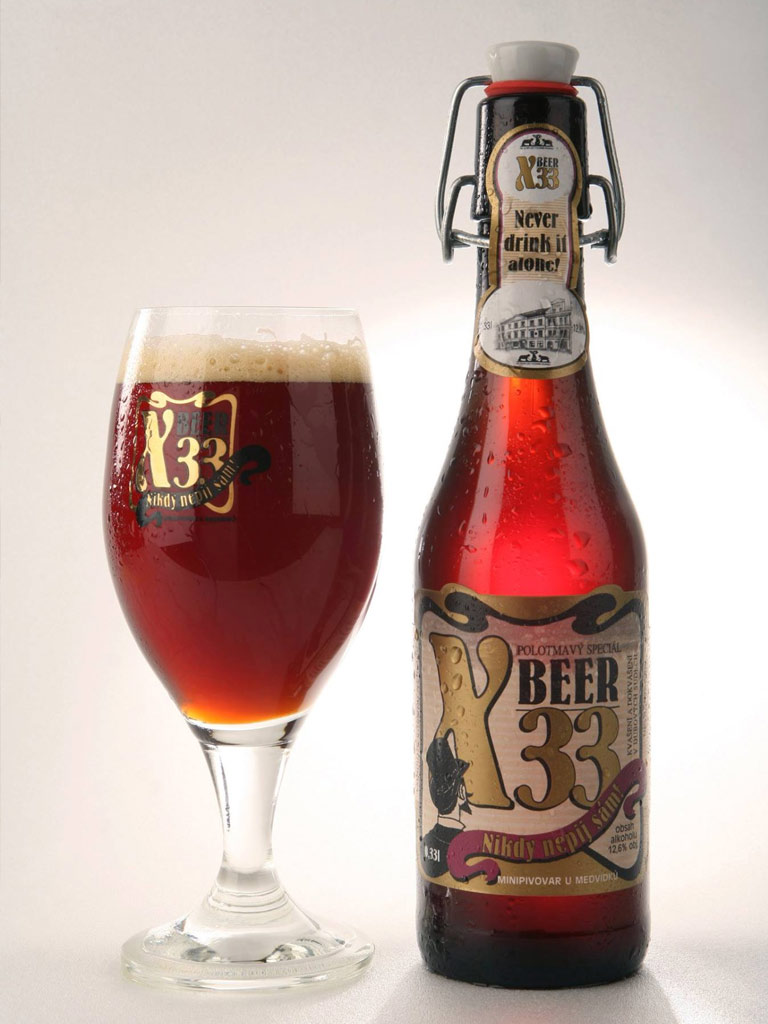 X-Beer 33 – nejsilnější pivo na světě!
Opět k dostání v pivním baru a našem pivovaru.
X-BEER je pivo, které nemá v České republice ekvivalent. Vyniká přírodní sladovou chutí s příjemným hořkým dozvukem. Vysoký obsah alkoholu a cukru společně s vyšším chmelením výrazně urychlují vstřebávání alkoholu do krve. VÍCE ZDE.
X-Beer33 – the strongest beer in the world!
Available in the beer bar and in our brewery.
X-BEER is beer that has no equivalent in the Czech Republic. It is remarkable by the natural malt taste with a pleasant bitter after-effect. The high content of alcohol and sugar together with higher hopping, speed up markedly the absorption of alcohol to the blood. MORE INFO.
---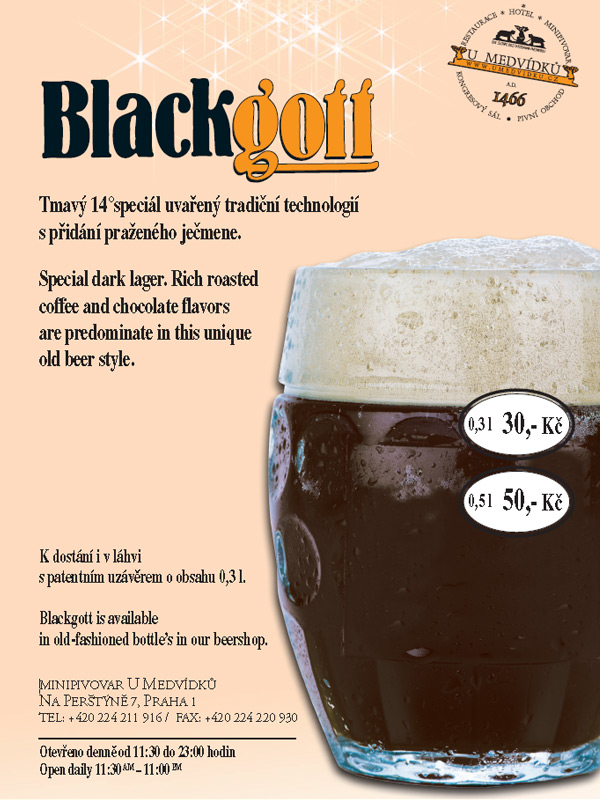 Blackgott
Tmavý 14°speciál uvařený tradiční technologií s přidání praženého ječmene.
K dostání i v láhvi s patentním uzávěrem o obsahu 0,3 l.
Připravujeme pro Vás na prosinec 2018 / leden 2019
Special dark lager. Rich roasted coffee and chocolate flavors are predominate in this unique old beer style.
Blackgott is available in old-fashioned bottle's in our beershop.
We are preparing for you on December 2018 / January 2019.

Microbrewery
Our aim was to bring the original manufacture of beer to the visitors as possible. Therefore, we manufactured the brewery, perhaps the smallestin the Czech Republic (the brewing house with the capacity of 250 l).
Brewery store
The largest specialized shop it located at beer and brewery souvenirs that will enable the visitors to buy original souvenirs. The offer of more than 30 kinds of beer from the production of Czech and Moravian breweries…
Theatre hall
Of the object in the Gothic roof truss a theatre is with 100 seats at the table. "Medvídkovský Cabaret" – will be on the programme. It is an all-evening ptrogramme of old-Bohemian Songs and dances in beautiful costumes and decorations of ancient.
U Medvídků
Historical hotel, restaurant and brewery in the center of Prague.